CFO, are you ready for OneStream Software?
Are you thinking about implementing OneStream Software in your company? Probably you already have it and you are already a OneStream Software user? So here a guideline we prepared so you can assess if you as CFO and your company are ready for OneStream Software.
OneStream Software is not just a CPM (Corporate Performance Management) software, but an extensive platform, this means that with one software license you have access to over 50 different CPM solutions from the Marketplace. This is the alternative to the non-integrated legacy applications providing a single smart CPM platform that simplifies and unifies several processes, like:
Financial Consolidation and Reporting.
Planning Budgeting and Forecasting.
Analysis
Data Quality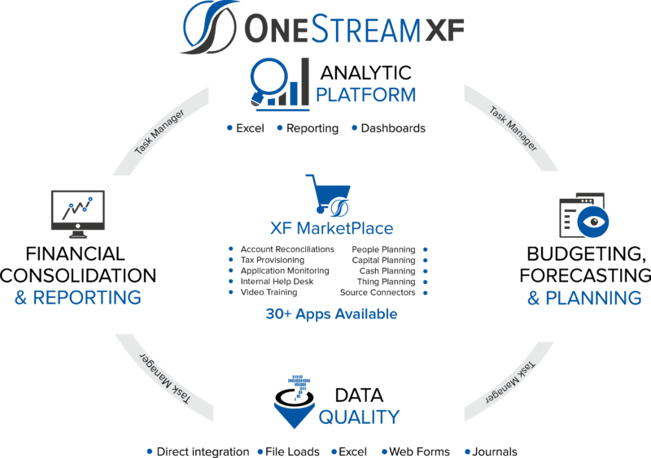 The Market Place
The OS XF Marketplace is an area free to access for all OneStream Software users that provides over 50 downloadable domains specific that can be deployed quickly to extend the platform and address additional requirements: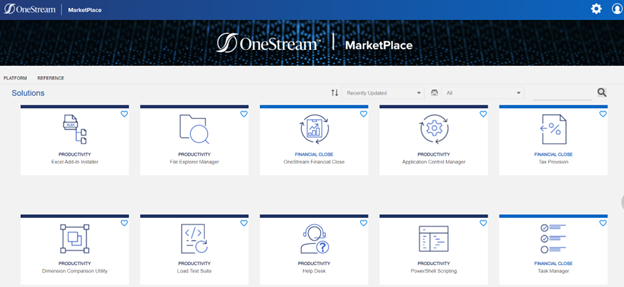 You can find solutions such as: Account Reconciliation, Transaction Matching, People Planning, Capital Planning and much more.
Step 1 - Assess it and start thinking of your dream team
Achieving 100% customer success is a key mission of OneStream Software, so their implementation team usually gets involved in some degree on the projects their partners implement. The degree of their involvement depends on the experience and risk-assessment of the project. That is: a partner with high experience, but implementing a new or complex module, will require more involvement on the project by OneStream, while a project less complex implemented by a not so experienced implementor, would require less involvement by OneStream.
This approach has pros and cons, being the first that you can be sure OneStream will be on top of you and your organization in case things get delayed or advance differently to what was originally scheduled. The cons are that not all organizations work like a swiss watch, so it is very likely your project could delay vs what was planned, and OneStream will follow-up on you and your team, and that includes escalating you while adding costs for those delays (as OneStream is not your present EPM support company that you can ask for flexibility).
Additionally, you need to plan well on advance the availability of the resources for implementing OneStream, as they are scarce and expensive, so it is a good idea to start evaluating implementators before you sign the actual contract with OneStream, and if not available, probably is better to wait for the right implementator for you than to go with the available one (Swap Support can help you to assess their capabilities, and of course help you with the Project Management Office, as we focuse on the after-Go-Live support to enhance your OneStream Software experience).
Is your company more similar to a set of islands that share information only when required and find a hard time to work as a one team? If your answer is a "YES", probably before buying a fully integrated EPM/CPM tool like OneStream Software, your company needs to work on a "change management" strategy focused in eliminating inter-departamental barriers to teamwork, else you will need to do this during the Analysis and Implementation phases, as OneStream XF "combines Analytic, Stage, Relational, and Source transactional data in One Model".
If your assessment is that your company will continue working as separate islands, no matter the "change management" program you follow, probably you should reconsider an EPM/CPM tool less integrated with data sourced from different departments' processes, in summary a tool that allows different data models. Probably more complex to maintain, but easier to implement (and, probably the only feasible option).
Step 2 - Analysis and Implementation
One of the strengths of OneStream Software comparing to other products is this extensive platform with many possibilities. Sometimes by the time of the implementation, when the company must decide on the scope of the project, it is hard to balance between the ultimate solution and the project budget / timelines for the implementation.
For this reason, most of the projects cover only a fraction of the capabilities offered by OneStream Software, even the Analysis should consider the future needs the company will have, and we are not only talking about Finance, but other areas of the company, as OneStream was designed to serve not only Financial departments, but any other area of the company that could need to Plan & Forecast, and those plans & forecasts have impact on the revenue and expenses of the company.
One important OneStream implementator, that implements too other technologies, has referred to me that OneStream's implementations usually requires its highest level knowledgeable and most experienced consultants, as a sound and solid Analysis is key when implementing OneStream software, so usually their analysis when implementing OneStream require double the time needed when implementing other EPM/CPM integrated solutions.
For this reason, most of the projects start with a limited ammount of the capabilities offered by OneStream Software, so it is very important to manage the expectations, as not everything users will see on the demo, will be implemented in real life.
One case where the previous advice was not followed was in one OneStream consolidation implementation we started to support after implemented, that supposedly had been offered by the original OneStream implementor to be able to perform exactly what you are doing with your previous EPM, and of course that was impossible to achieve (at least during the 1st phase of implementation), as even OneStream was superior in capabilities to the previous EPM installed software, that previous EPM was fully customized during more than 7 years by the users, along the help of an small external consultant who almost served exclusively this customer, and had fitted it exactly to the process the customer wanted, so even OneStream Software allowed great deals of customization, it required too that the customer improved its processes.
What would be the point to buy a newer and more modern solution if it will be fitted to old financial processes?
Step 3 - After implementation
The application is so extensive that even after a deep analysis and excellent implementation, it is a must to invest time and appropriate resources to manage and maintain it. This is sometimes difficult for companies due to several factors such as: low "after-Go Live" budget or extra budget used during the implementation, scarcity of profiles with OneStream knowledge, long-time leaves (aka Big Resignation), lack of internal knowledge, etc.
Having a specialized support partner ensures that your support service consultants will not be managing your incidents on their "free time" between projects (or by nights after a full day implementing) but this will promote an optimized long term life and evolution of OneStream within the organization, making the ROI of this investment to be at its peak.
A good plan for expanding OneStream after a Close & Consolidation project would be represented by OneStream's consultants as follows: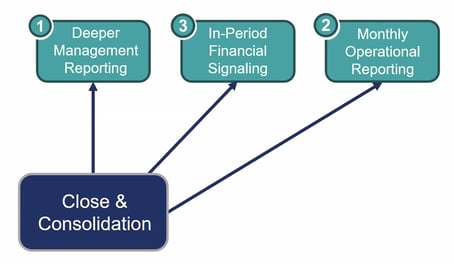 Based on our experience supporting several OneStream projects after Go-Live, these are the most common issues that our customers experience:
Data analysis: When data seems to be not correct, sometimes it is difficult to track it back and understand how the ammount we are investigating has been generated in the system. We have the drill down capability, which give us a lot of information and the possibility to go to the root of the information, but, if there are calculation or consolidation information users can find difficult to understand the data and if it is not correct how to adjust it.
Dashboarding building and configuration: Dashboards are a powerful tool that integrates tables, charts, and graphs, where user can visualize data, input data and run actions to calculate data. So basically, you can do almost everything from a Dashboard. The downside of it: most of the time users find difficult to configure them so they ask us to support them on the creation and integration in their financial process.


Training and knowledge: internal changes in the company, new hires and leaves require having a strong knowledge base into the company to ensure the continuity of the process in a good manner. Swap Support helps customers providing trainings and bringing our knowledge for the most difficult tasks.


Performance and Business Rules: gathering all financial processes into one tool also could impact in the performance and the way information flows and interact into the system. Now having a proper configuration could impact in the process with long performance timings or some logic errors.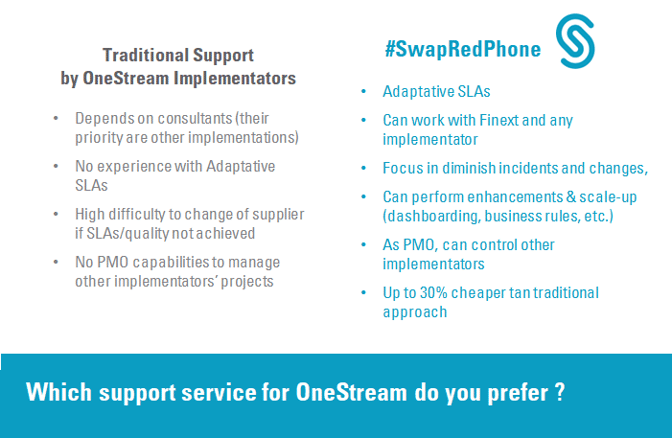 Is OneStream Software the right solution for you?
All our Support Consultants at Swap Support agree that OneStream is a great product, and opens a lot of possibilities for the "digital transformation" of the finance function, and it is clear that its founders achieved their goals of having a fully integrated platform to integrate the financial processes of any finance organization in One Model (One Data Model), but the question is if OneStream is a great solution for YOUR finance organization.
In our experience, that can only be answered after having an unbiased understanding of what is the current maturity of your present finance organization (see our article showing our levels of Maturity for EPM/CPM), at what level do you aim to achieve, and at what level you can ACTUALLY achieve in the next 2 years. Remember: history is the most important predictor of the future, so analyze how your organization has reacted to previous similar projects. Have those "transformational projects" been supported by the owners of the company, or was attacked or left alone by top executives when project challenges happened (any project has challenges, and that is why risk mitigation actions should be foreseen in advance)? How well other departments have accepted cross-departamental initiatives in simpler projects? Do they manage to cooperate between them? Do their managers trust on other managers? Is cooperation between departments the norm, or it is the exception?
Be sure to analyze those behaviors after COVID, as those behaviors could have changed (positively or negatively) compared to pre-COVID behaviors.
If still a silo-based organization, stuck to siloed-processes patronaged by top executives or even owners, better is you go for similar silo-based applications, which can be "owned" by different departments, and then "glued" through interfaces developed by your IT department (or by Swap Support Service Desk).
If your "history" on transformational projects is poor, but you really want to transform your finance department with a One Model software like OneStream Software, try to use an external consultant first to implement "change management" strategies first, at least 6 months in advance, before you actually start the implementation, else you will have big delays in your project (in the worst case you will get the same value than your current EPM, but at much bigger cost).
Are you ready for OneStream Software?
After several years supporting EPM/CPM systems, we know that rarely finance digital transformation projects fail because of technology. Most of the time they fail because, even the CFO is supportive and ready for a change, the rest of the company is not ready for a new approach, and a One Model is a big change of paradigm and probably is not the right fit for your company at this moment.
Not being a right fit for the OneModel that OneStream proposes doesn't mean your company is bad or antique, it only means your company operates better when different departments work independently (probably even competing), and because of that, probably it is better you go for an independent-but-interconnected EPM/CPM solution like Tagetik or Oracle EPM Cloud.
If still those tools are "too-integrated" for you, analyze a "best-of-breed" approach: select the best-fit for your Planning & Forecasting needs and implement it as stand-alone, or probably before select the best-fit for your Consolidation needs, then the best fit for your reporting needs (probably IT already selected it), etc. and integrate everything over-time through secure cloud "down-up" batch processes or APIs, making sure your company "islands" data exist in an unified, secure and maintained data warehouse.
More difficult these two last options than a One Model? Yes, from a technical point of view (and being a CFO probably you are not so technical and you think this is very complex), but remember that making people change their way of thinking and behaving, as usually any company cultural transformation takes no less than 18 months (unless survival crisis, like the COVID changed our way of working remotely), and probably nor you nor your company has 18 months.
All roads go to the Rome, when talking about Finance Transformation, but you need to make sure that: a) you are on a probed road, b) you move forward no matter the speed and, c) you have as few un-planned stops as possible.
Said that, don't miss the opportunity to know OneStream Software, as they have made sure to hire some of the best talents in the industry, a lot of times expert resources from their competitors, so enjoy their marketing pitches, their demos and their knowledge, and then decide if you are the right company for them at this moment, so let our #SwapRedPhone for OneStream assess you and prepare you for your next big challenge.