Support for CCH Tagetik
CCH Tagetik combines the financial and the operational processes within one solution. Based on a powerful engine, the platform gives you better insights, enabling you to make faster decisions that help drive your business.
CCH Tagetik is available both on-premise and in the cloud. The strengths of the solution are its flexibility and integration within one platform. Industry-specific solutions are available, solving complex problems within a common platform.
How do we help you with the support and hosting of your CCH Tagetik application?
15 hours a day, 7 days a week
15 hours a day, 7 days a week
Immediate access to experts
Immediate access to experts
Multilingual service desk
Multilingual service desk
Expertise in both business processes & IT
Expertise in both business processes & IT
One integrated CCH Tagetik platform
The unified platform ensures efficiency, fewer risks, and lower costs for the organizations that use it. Also, it enables you to align financial and business processes.
One of the strengths of CCH Tagetik is the Analytical Information Hub, which gives you the possibility to add modules for specific processes, such as IFRS 16, Solvency II, Sustainability, and Tax Reporting. These modules make it easy to adapt your business processes effectively and efficiently to trends and legal requirements.
The Analytical Information Hub gives you the choice between standard modules and custom-made functionalities. Custom-made functionalities in the hub require SQL expertise combined with in-depth knowledge of your business processes.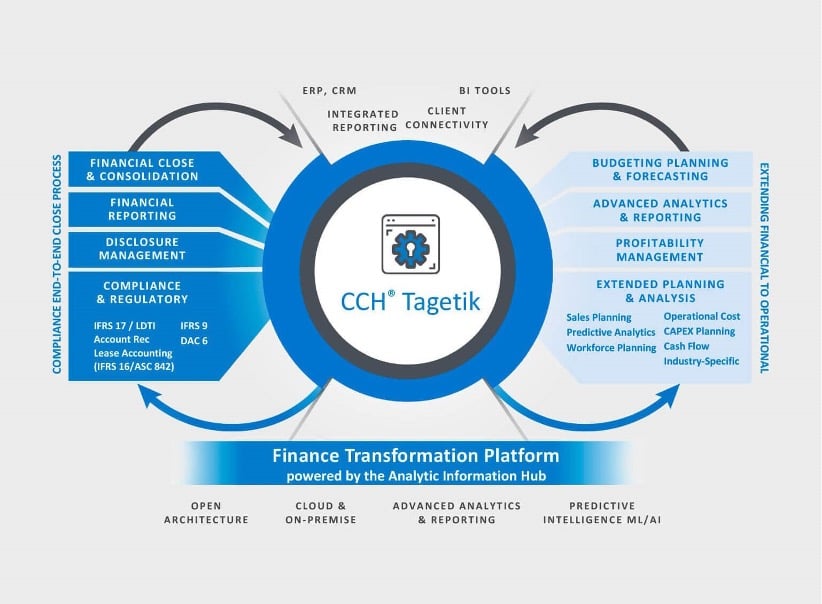 Making the best choices with life cycle management
The EPM market is ever-changing and dynamic. As such, it is crucial to keep one eye on the future constantly.
As your support partner, we ensure you are kept up to date with the latest developments and what they mean for your situation. Our life cycle management approach helps you to get the most out of your landscape.

Webinar
CCH Tagetik
Discover more about the life cycle management of CCH Tagetik.
What is

essential

in support

ing

CCH Tagetik
CCH Tagetik is very flexible, enabling you to tailor the platform to your requirements. However, to ensure the platform's performance, all these possibilities need to be maintained as well. Our experts advise you about the impact of the available choices on the performance. We help you to structure and prioritize the possibilities. For the on-premise platforms, we install and test each patch for you. For the cloud-based platforms, we test each automated update and seasonal release for your business processes, ensuring that you're always benefiting from all the new features.
An essential benefit of the CCH Tagetik platform is the ease of collaboration through the collaborative office. With so many different users from various departments within your organization, the collaborative office requires attention. In practice, we see that many organizations ask us to help them support this feature.
Also, we help you support the platform, ensuring the continuity and reliability of your platform. For example, in the data model, changes in the data need to be implemented at various places, sometimes leading to questions during the financial processes. Our experts answer your users' questions and investigate to solve any issues quickly.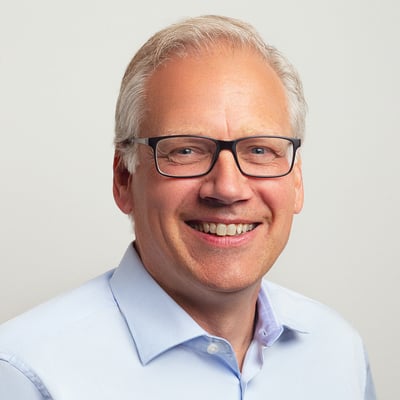 "We had the challenge of implementing a management report in a short timeframe. Until now, this report was drawn up manually. Based on our discussions with Swap Support, we came up with a design that requires little maintenance. The report went live within a month, saving us many hours of manual work. We have seen Swap Support as a reliable, flexible, and cooperative partner for many years."
Erik Fiselier
Financial Controller - Generali
Hosting of

CCH Tagetik
CCH Tagetik is available both on-premise and in the cloud. More and more organizations are not only externalizing the support but also the hosting of CCH Tagetik. Discover the 5 reasons to outsource the hosting of CCH Tagetik.
The best option for you depends on your requirements, landscape, and IT strategy. Our experts can advise you on the right choice for your situation and the type of support needed for that specific hosting option.

Partnership

with CCH Tagetik
At Swap Support, we have years of experience supporting CCH Tagetik. Our CCH Tagetik consultants are all certified and up to date on the latest developments and solutions.
"CCH Tagetik is a robust software that increases the efficiency of your business by simplifying and optimising your financial and operational processes."
Jenny Leow
EPM Consultant