Why companies outsource the 3 layers of support
Many companies outsource the support of their financial systems. Sometimes, this is limited to application support. But more and more companies outsource all layers of support; functional, application, and technical. Endemol Shine is one of these companies. Why did an international organization like Endemol Shine choose to outsource all its support? And what are the benefits?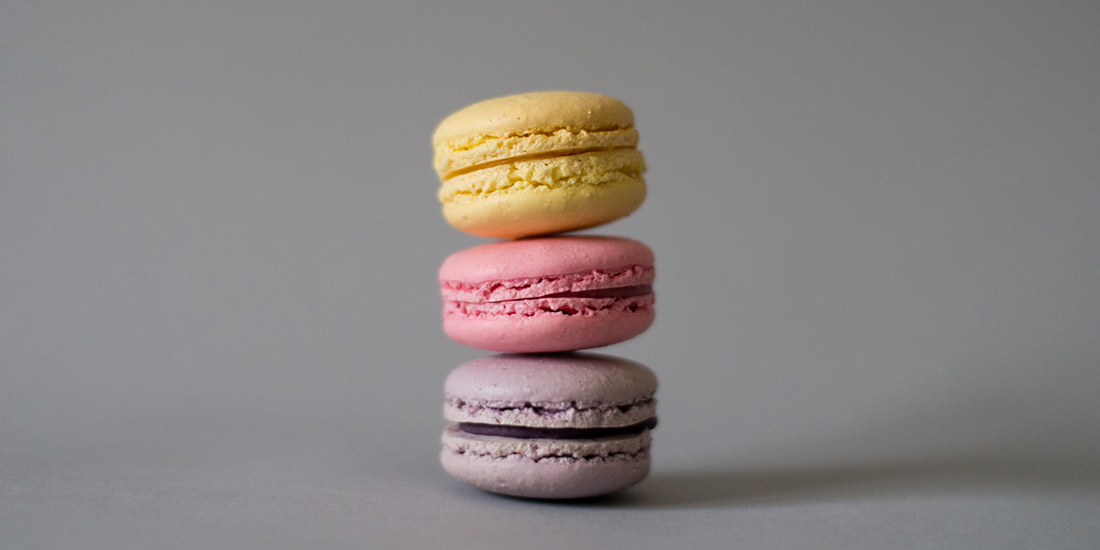 Financials and IT professionals often talk about "support" as a general term, but this can be made much more specific. There are three different types of EPM support: functional, application, and technical. Endemol Shine has recently outsourced all these layers of support to Swap Support. This optimization process allows Endemol to work more efficiently and get more out of its SAP BPC application.
A single point of contact
The significant advantage of outsourcing all three layers of support is that you only have a single point of contact. It is sometimes difficult for a user to estimate whether an issue has a functional, application, or technical cause. By outsourcing all layers of support, your users do not have to think about the reason but can call the point of contact. This approach ensures that the issue is resolved, whatever the cause.
For example, at Endemol Shine, key users have a single point of contact for all SAP BPC-related matters in the Amazon environment. To the full satisfaction of Robert Michel, Head of Accounting & Reporting at Endemol Shine: "If there is a problem with SAP BPC, I want to be able to call one person to solve it. Take last month. In the middle of the close, the system did not function, and Swap Support was called. I didn't have to do anything myself, everyone did what we had agreed, and it was resolved in the middle of the night. Those moments are why we're outsourcing; if something goes wrong during a critical reporting period, causing the countries to be unable to report. Then this service is worth its weight in gold."
What are the three different layers of support?
Outsourcing all layers of support can yield a lot. But what does each layer entail? And how do the different layers ensure the stability and continuity of your financial systems?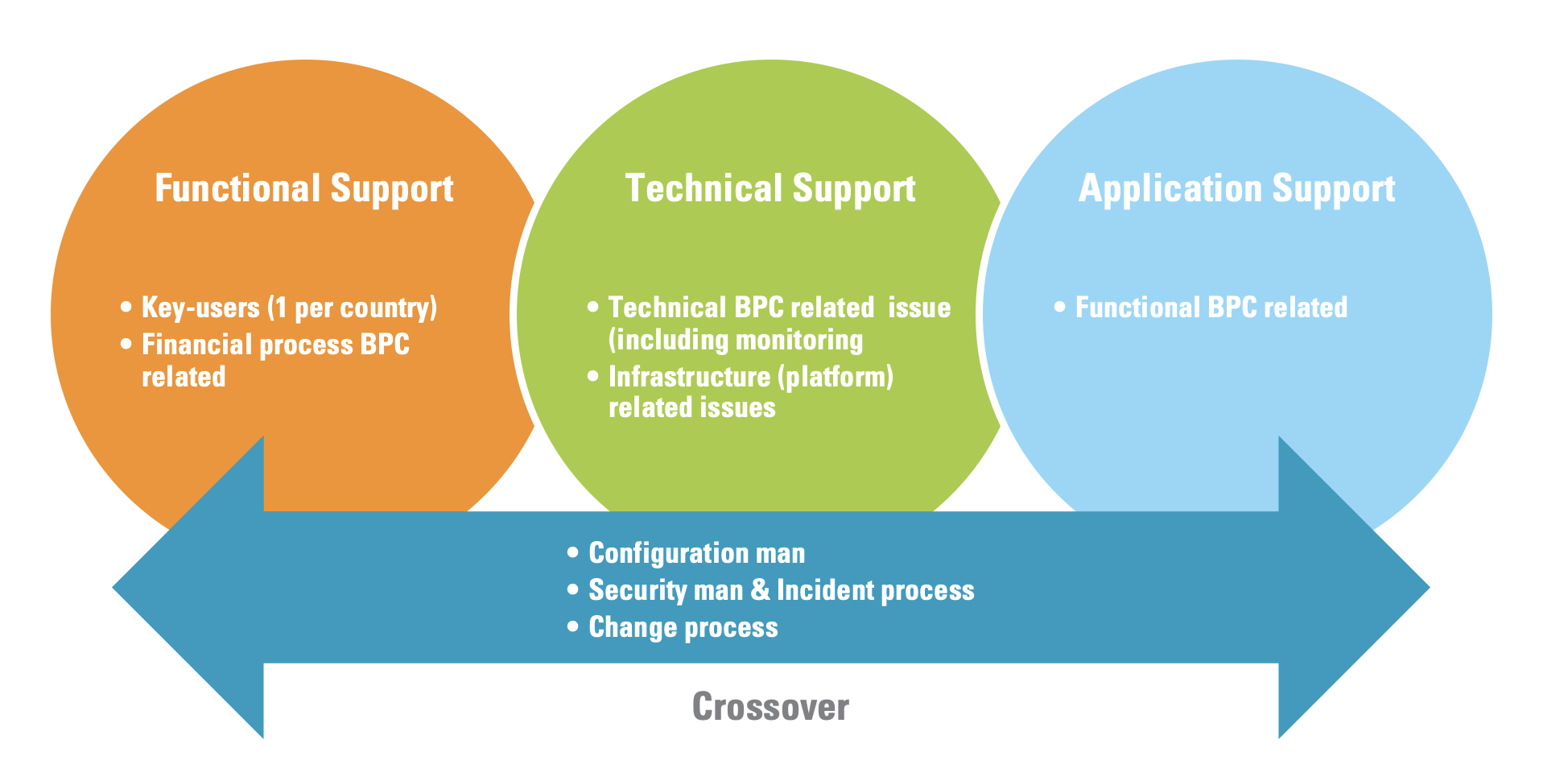 The three different layers of support
The 1st layer: Functional support
This first layer of support focuses mainly on the user. As the first point of contact for the end-user, this type of support ensures the question is directed to the right place so that users do not have to think about who to contact.
Take Endemol Shine. After the contact person has analyzed the issue or question, it is passed on to the right person. This can be someone at Swap Support, but also at Endemol Shine. For example, if a question is related to explaining the figures or the financial connection, it will be assigned to the finance team. But it is also possible that an account request is forwarded to the access management of Endemol Shine. If necessary, functional support flows smoothly into application support.
Previously, all these user questions and issues initially fell to the finance team. Now the finance team is relieved of these interruptions and can focus on its regular financial activities.
The 2nd layer: Application support
This second type of support focusses on resolving functional incidents and substantive questions from users about the possibilities or the operation of their application.
Endemol Shine has been outsourcing part of its application support to Swap Support for years. Think of training, optimal design of the application, and the (temporary) role as a functional manager, which often includes a substantial part of application support. "We have great employees with a lot of knowledge, but there are limits in their knowledge and skills. They simply cannot do everything. So, it is nice to be able to spar with the specialists of Swap Support. Sometimes we can solve it ourselves afterward, sometimes Swap solves it. Besides, outsourcing also prevents our own functional manager from getting so many questions that he doesn't have enough time to perform his regular finance tasks," says Robert.
This layer of support revolves around the application itself. How do you create a good performance? How do you ensure that the database does not become overcrowded? And how do you resolve issues and incidents? "The data must be of the right quality and available on time. Otherwise, you cannot do anything as finance," says Robert. "As a finance community, you are responsible for the content of the data. However, if the data flow does not run, you are stuck. You want to avoid the data being late, causing finance to miss reporting deadlines, or the quality is not good enough so that as Group, we still have to make adjustments."
The desired data flow is created by improving both the application and the processes. "It is not only about improving SAP BPC but about the combination of improving the application and the processes. For example, we have drawn up a clear closure schedule, so that countries know what to deliver when," Robert continues.
The 3rd layer: Technical support
For technical support, the focus is on ensuring that the application functions smoothly within the chosen environment. This environment can be your own platform, a cloud environment such as Amazon Cloud, or the Swap Support platform. Within all these environments, technical support with specialist knowledge is required to keep the application excellent and stable. Surprisingly, many people think that within a cloud environment, technical support is no longer necessary. However, technical support remains essential in a cloud environment. Sometimes, even more so because you are dealing with large parties such as Amazon.
At Endemol Shine, the SAP BPC application runs on the Amazon Cloud. The full technical support is outsourced, which means that Swap Support takes care of patching, monitoring & follow-up, and solving technical incidents. This technical support is active 24 hours a day and ensures that technical malfunctions are dealt with immediately.
Discover more details about the results of outsourcing technical support at Endemol Shine in the article "Technical support of SAP BPC on Amazon at Endemol Shine".
What are the benefits of outsourcing your support?
Outsourcing all types of support is beneficial; we see that organizations experience many benefits. Support becomes more efficient and smoother. Together, we provide a trustworthy system that users can rely on. And because you have access to the right specialist 24 hours a day, the continuity of your financial process is guaranteed. This approach gives you peace of mind, especially during the peaks of your financial calendar.
Would you like to know more about the flexible support and hosting of your EPM system?
In practice, many organizations find flexibility and customized service important. The wishes often depend on the in-house knowledge and capacity, the desired response and resolution times, and the organization's financial calendar. Therefore, we opted for a flexible service model, allowing you to scale up or down if the situation changes within your organization. Contact Judith Pennings and discover the possibilities for your EPM system.
Wondering why other companies have outsourced their hosting or EPM support to Swap Support? Then read:
Text: Judith Pennings